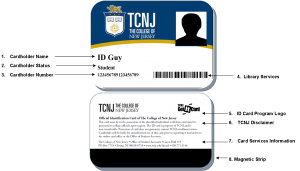 Cardholder Name: Registered name at The College of New Jersey
Cardholder Status: Student or Faculty/Staff
Card Number: Unique identifying number
Bar Code: Self-service library book check out program
ID Card Program Logo: Official TCNJ Get It card program logo
TCNJ Disclaimer: ID card disclaimer information
Card Services Information: Office of Student Accounts contact information
Magnetic Stripe: Can include, but not limited to, entrance to campus buildings, gated parking lots, computer labs, rehearsal rooms, Physical Enhancement Center, meal plan spending, and/or Get It card debit program.
The TCNJ ID card is the official photo identification card of The College of New Jersey and must be carried at all times. There are three TCNJ approved ID cards: student, faculty/staff, and affiliate. All cards are photo cards with a magnetic strip on the back.
The ID card is the mechanism for accessing the cardholder's account(s) or privileges. Presentation of the card is required to access meal plans, residence hall access, and may be required for other services such as library services, admission to events, parking access, etc. The card must be presented at the time of purchase and is the only means of accessing a participant's account.
The card is the property of The College of New Jersey and is non-transferable. Only the person pictured on the ID Card will be permitted to spend funds from the account, and at some locations the cardholder will be required to sign a receipt for goods purchased. ID Cards will be confiscated if presented by someone other than the cardholder or if the card is involved in inappropriate or illegal use. Fraudulent use of the card will result in disciplinary action.
The ID Card functions strictly as an electronic wallet system. Cash cannot be withdrawn from this account. Refunds are available only when a participant will no longer be attending The College of New Jersey (i.e. termination of employment, withdrawal of attendance or graduation), and are mailed in the form of a check to the participant's permanent living address.
The cardholder is responsible for maintaining a valid ID Card in proper working condition. Lost, stolen or misplaced cards must be reported immediately to the 24 hour On-line Card Office or by contacting the Card Services Manager in the Office of Student Accounts at (609)771-3146. If reporting the card lost/stolen over the phone, you must speak with someone live to ensure the card is deactivated.
Individuals that intentionally damage their ID (e.g. punch a hole in the card) can be subjected to the Lost ID Card Fine in order to get a new ID card.